January 10th, 2013
I am honoured that Ann Kullberg included my Girlish Giggles in the January 2013 issue (Vol. 157) of CP Magazine in the Showcase section.

Girlish Giggles is an 8" x 10" coloured pencil portrait of my Godchild, Laura. She is holding a strawberry and giggling at something my husband has said to her. Laura is absolutely adorable and I just had to render this image.
June 30th, 2012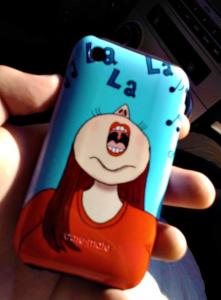 My new iPhone cover with the cartoon I drew of me singing. Photo by Alexander Tirolese, taken with his cell phone.


The iPhone 3G cover from Zazzle with the image of the "I Love to Sing" cartoon that I created in June has arrived. It is even better than I expected!!!

I got the one with the black rubber inner liner because I am a bit of a klutz.

It is BEAUTIFUL!



June 19th, 2012
One of the features of Fine Arts America is that of creating customized newsletters. So, my dear friends and family, you are my guinea pigs for this first issue.

BEFORE your roll your eyes at yet, another, email newsletter, let me assure you that your email inbox will not be overflowing with newsletters from me. I have enough difficulty coming up with regular posts for my blogs (Ana's Ramblings & Strictly Sketchbook) that I doubt I will have enough to say to put one of these newsletters out on a regular basis.

These newsletters will keep you up to date on what is going on, art-wise, in my life. As I, once again, get more involved in the art community, I'll inform you of upcoming exhibits, new works, and any specials I may be having.

Currently I have been working on a daily drawing project that started in May and continued through June. You will find those images on my Ana's Ramblings blog, and in a few days they'll start appearing in the Strictly Sketchbook. You will also find images on the Strictly Sketchbook from the book 642 Things to Draw: a journal.

I will be updating my website and the following sites over the next couple of weeks to include all my latest work.

You may view my work or purchase prints and cards on my new Fine Arts America website:
http://1-ana-tirolese.artistwebsites.com/

You may purchase some merchandise with my work on it or send FREE eCards of my work through ArtWanted:
http://www.ArtWanted.com/Dollinha


My Zazzle Store:
http://www.zazzle.com/dollinha